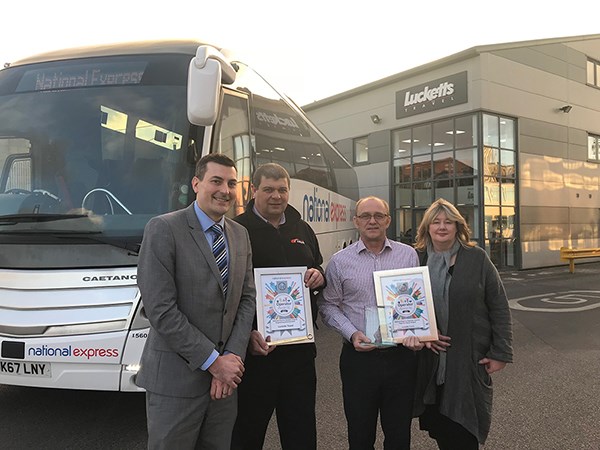 Coach firm goes for gold
While Britain's athletes have their eyes set on medals at the forthcoming Commonwealth Games, a Hampshire coach firm is busy picking up its own gold.
Lucketts Group has been presented with National Express's 'golden spanner' award for the third year running, after excelling in its annual engineering audit.
The CoachMarque approved company, headquartered in Fareham, runs more than 100 services on behalf of the national coach firm every day. As well as driving the coaches, it maintains them at its in-house engineering department, ensuring they are safe and as efficient as possible.
Every year it's audited by National Express and its most recent inspection has seen it pick up the highest accolade possible – the golden spanner award – for a third consecutive year. The company also picked up the high achiever award for consistently scoring top marks on its monthly standards targets.
It's a particularly impressive achievement as all of the vehicles in this year's audit were in their last year of service of service for National Express, meaning even the vehicles that were soon to be renewed were still impeccably safe and maintained.
Managing director for Lucketts Tony Lawman said: "National Express, just like all of our customers, deserves much more than a coach company that simply ticks the boxes. It deserves a coach company that goes the extra mile to be the very best. That's why we set ourselves such high standards, way above the industry norm, and we're thrilled that National Express has recognised the way we consistently achieve them."
Lucketts is currently in the process of updating its entire fleet of National Express vehicles so that every single vehicle will be less than a year old. Seven were replaced in November last year and another seven new vehicles are due to arrive in March, with a further five following in October.
The accolade from National Express comes just a few months after it was revealed Lucketts was one of the first companies in the UK to join a nationwide pilot by the DVSA to make the roads safer. Lucketts is among the first on the DVSA's Earned Recognition pilot scheme after demonstrating impeccable compliance, safety and engineering records.